Obituary of Harjit Singh Rai
RAI– Harjit Singh
September 1, 1928 – Dhurkote Kalan, India
March 4, 2021 – Calgary, Alberta
Harjit Singh Rai, beloved husband of Ajit Kaur, of Calgary, Alberta, passed away on Thursday, March 4, 2021 at the age of 92 years. Harjit Singh married Ajit Kaur in 1941 and together they built a legacy of faith and family.
Harjit Singh was born in Dhurkote Kalan, Punjab, India on September 1, 1928. Education was always an important part of his life, and he was proud of the Bachelor of Teaching degree he earned in Moradabad, Uttar Pradesh. His career as a science and math educator spanned three decades and culminated with service as Headmaster at multiple schools until he immigrated to Canada in 1980. Together with his wife, they built a loving family with four children who also carried forward lives of service to others.
Harjit Singh lived a life focused on faith, family and community. He became a pillar in any community he was part of. He was politically active, volunteering on many campaigns, serving on boards and encouraging others to be active with their votes. He personally knew every Premier since Don Getty and was often sought out for his sage political advice.
Harjit Singh's extensive service included work on the Senior's Advisory Council of Alberta, and as a Director of the Multicultural Center in Calgary. He received the Alberta Centennial Medal in 2006 and the Queen Elizabeth II Diamond Jubilee Medal in 2012 for his contributions to his community and Alberta. For his contributions to the Alberta Indo-Canadian community, the Gadri Babian da Mela awarded him a Lifetime Achievement award in 2020. In addition to his years of service in educating youth, and volunteering in his community, he built Rai Realty Ltd., a family real estate agency for which he was the Broker.
Harjit Singh maintained physical and mental health through prayer, walking, and swimming. His wise advice came from a well-kept mind and caring heart. He was often found playing with his great-grandchildren, serving his community with open arms, or sharing his faith and wisdom with others.
He will be most remembered for his dedication to family.
Everything we are able to do, we do because he taught us with love, kindness, and steadiness of character.
Besides his loving wife Ajit Kaur, Harjit Singh is survived by his son Pritam Singh Rai and daughter-in-law Sharnjit Kaur Rai, son Suritam Singh Rai, daughter Suritam Kaur Sidhu and son-in-law Narinderpal Singh Sidhu, son-in-law Kulwant Singh Sekhon; sister Dalip Kaur; grandson Hardeep Singh Rai and granddaughter-in-law Brandi Nicole Rai, granddaughter Amrit Kaur Nannan and grandson-in-law Mikkel Singh Nannan, grandson Jasjeet Singh Rai and granddaughter-in-law Mona Rai, grandson Navdeep Singh Sekhon and granddaughter-in-law Amandeep Kaur Sekhon, granddaughter Jagdeep Kaur Sekhon, granddaughter Avneet Kaur Sidhu, granddaughter Armaani Kaur Sidhu, grandson Maher Singh Sidhu, grandson Amarjot Singh Rai, granddaughter Dilpreet Kaur Rai; great-grandchildren: Eli Chase Rai, Symrin Kaur Rai, Darshan Singh Rai, Eva Grace Rai, Arjun Kaur Rai, Harjeevan Kaur Nannan, Himmat Singh Nannan, Sanya Rai, Maya Kaur Sekhon, Jay Singh Sekhon, Owen Singh Sekhon, as well as numerous nieces, nephews, cousins, and friends.

Harjit Singh was predeceased by his daughter Pritam Kaur Sekhon, brothers Gurbachan Singh Rai, Sardip Singh Rai, and Dalip Singh Rai, sister Gurcharan Kaur, and grandson Gurvir Singh Sidhu.
Funeral Services will be held at CALGARY CREMATORIUM CHAPEL, 3219 – 4th Street NW, (within the valley of Queen's Park Cemetery) on Saturday, March 13, 2021 at 2:00 p.m. Visitation will be from 11:00 a.m. to 1:00 p.m. with Covid protocols in place, masking and social distancing, up to 20 person limit per time slot. Please contact Pritam Rai or Suritam Rai for visitation.

Live Streaming Obituary:
A Private Funeral Service will be held, on Saturday March 13, 2021 at 2:00 p.m. Family and friends are invited to join Mr. Rai's service streamed live at www.calgarycrematorium.com on the day of the service. For those who are unable to view live, a recording of the service will be posted. Condolences, memories and photos can also be shared and viewed here.
In lieu of flowers please make a donation to your charity of choice.
To plant a tree in memory of Harjit Rai, please visit Tribute Store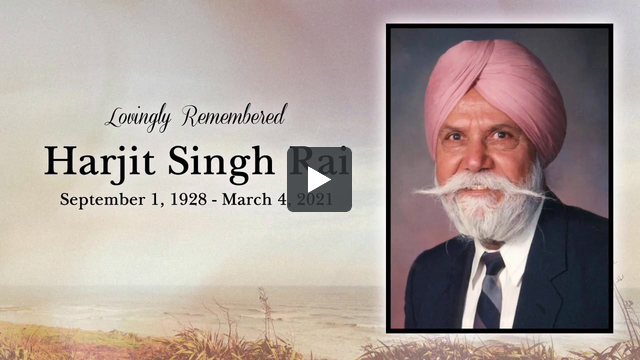 Share Your Memory of
Harjit