Obituary of Laurie Anne CARROLL
It is with deep sadness that the family announces the passing of Laurie on Saturday, February 27, 2021 at the age of 59.

Laurie worked in the family jewelry store for a time but spent most of her working life in the food industry as a cook. She loved to cook and spend time at the family cottage in Bluewater Beach but her true passion was making friends and giving those one arm bandits a run for their money.
One of Laurie's proudest moments was when she walked across the stage in her graduation cap and gown and received her GED in the fall of 2019. She was even prouder when they asked her to be a volunteer tutor.
She was a loving, kind hearted person who always found the good in others even if they couldn't find it themselves. After years of struggle Laurie found a home at the Mustard Seed where she immediately began to make friends.
She became part of a community and tried to make a difference in other people's lives.
She will be greatly missed by her sister, Linda (Brian Merkl) and nephews Kevin and Willie. Laurie was part of the Gruesome Foursome and will be missed and fondly remembered by the other members of the group, her extended family, and friends.

Laurie is predeceased by her parents Muriel and William Carroll and her brother David.

The family would like to extend their heartfelt thanks and appreciation to the doctors, nurses and staff of the emergency department and the ICU at the Foothills Medical Center for their care and compassion.
If friends so desire, memorial tributes may be made directly to the Mustard Seed Street Ministry, 102 – 11 Avenue S.E., Calgary, AB T2G 0X5 Telephone: (403) 269-1319, www.theseed.ca.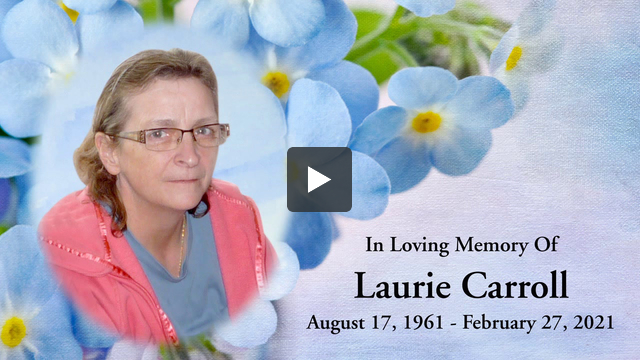 Share Your Memory of
Laurie