Obituary of Shamsher Singh GILL
Shamsher Singh Gill beloved husband of Amandeep Kaur Gill of Chestermere, AB, passed away on Friday, February 19, 2021 at the age of 67 years.
Shamsher was born in Jandiali, Punjab, India on November 2, 1953. He graduated from Khalsa College Ludhiana, Punjab with a degree in Bachelor of Arts and immigrated to Canada in 1976. He joined his elder brother the Late Sukhdev Singh Gill in Sparwood, BC to work in the coal mining industry until his recent retirement.
Shamsher and Amandeep wed in India on January 22, 1982 and Amandeep joined him in Canada soon after. They were blessed with the birth of their daughter Navjote (Jyoti) in 1984, followed by their sons, Amrinder (Andy) in 1987 and Devinder (Davey) in 1989. Shamsher and his family resided in Sparwood, BC until 1998 when they moved to Calgary. Shamsher continued to work at the mine, splitting his time between Calgary and Sparwood.
Shamsher was a pillar of strength and support, playing a vital role in helping numerous family members to settle into Canada, happily lending a helping hand to anyone without hesitation. He will be most remembered for his unconditional loving and selfless nature. His unwithering dedication to both his family and his work exemplifies and speaks volumes of his devotion to ensuring a better life for his loved ones.
He certainly believed in the saying "The more, the merrier". Shamsher enjoyed hosting get-togethers and socializing with family and friends as much as he could. He enjoyed going for his daily walks and spending his time with his family, especially his grandchildren.
Shamsher is survived by his loving wife Amandeep, his daughter Jyoti (Sunny) Samra, his sons, Andy (Manreet), and Davey (Varinder) Gill. He also leaves behind his four beautiful grandchildren, Mehar, Kaveer, Dhara and Celine.
Shamsher is also survived by his siblings, elder brother Retd Maj.Gen. Narinder Singh Gill (Kuldeep), and elder sisters, Ranjit Kaur and Balwinder Kaur; as well as numerous nieces, nephews, cousins, and friends.
A Private Funeral Service will be held, on Saturday February 27th 2021 at 10:00 a.m. Family and friends are invited to join Mr. Shamsher's service streamed live (see below) on the day of the service. For those who are unable to view live, a recording of the service will be posted. Condolences, memories and photos can also be shared and viewed here.
If friends so desire, memorial tributes may be made directly to the Alberta Cancer Foundation, c/o Tom Baker Cancer Centre, 1331 - 29 Street N.W., Calgary, AB T2N 4N2 Telephone: 1 (866) 412-4222. www.albertacancer.ca/memorial.
To plant a tree in memory of Shamsher GILL, please visit Tribute Store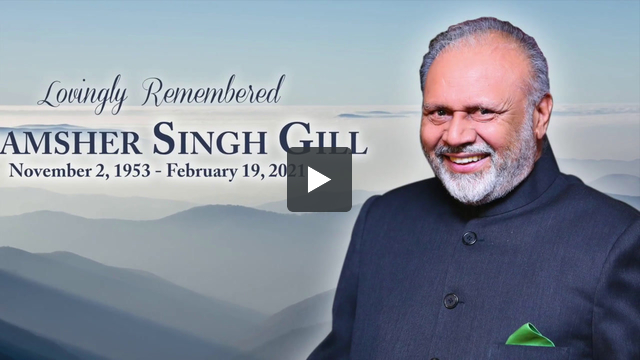 Share Your Memory of
Shamsher